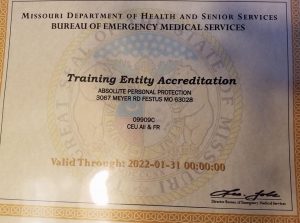 We Offer Monthly Continuing Education for EMS.   Course schedule will be posted soon.
Specialized courses in EMS Safety and Self Defense are available.
 It is extremely important that Responders are protected when caring for others.  Sadly the field is becoming more dangerous for the responders while responding to emergencies.  We have two levels of training  for this course.
 The first level is a 3 hour Awareness level course.  Level 2 is an 8 hour course with much more in depth discussion and hands on.  We are very passionate about giving responders the knowledge they need to safely handle a scene or hostile situation.  Level 1 must be completed before attending Level 2.   Cost is based on Department needs.  We are willing to set multiple training dates with Departments to fit shift schedules and we keep cost low.  Cost is kept low to be affordable.  Contact us for more details.